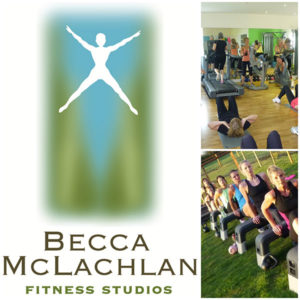 Small Group Fitness Training
Small group training is a cost-effective way to experience the benefits of training with Becca in a fun and friendly environment.  All sessions need to be booked in advance.
Book and pay for individual sessions or to save money on training purchase a monthly course package. Course packages can be made up of any combination of Small Group Fitness or Small Group Yoga sessions that are on the monthly timetable.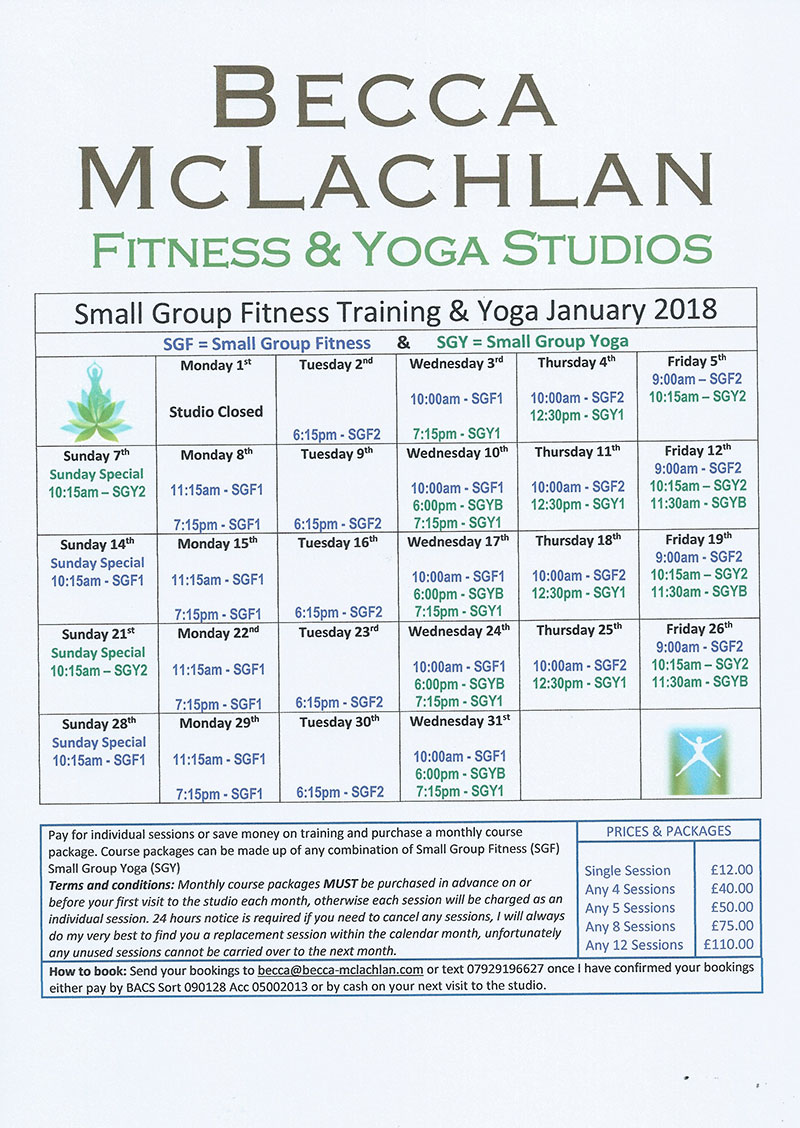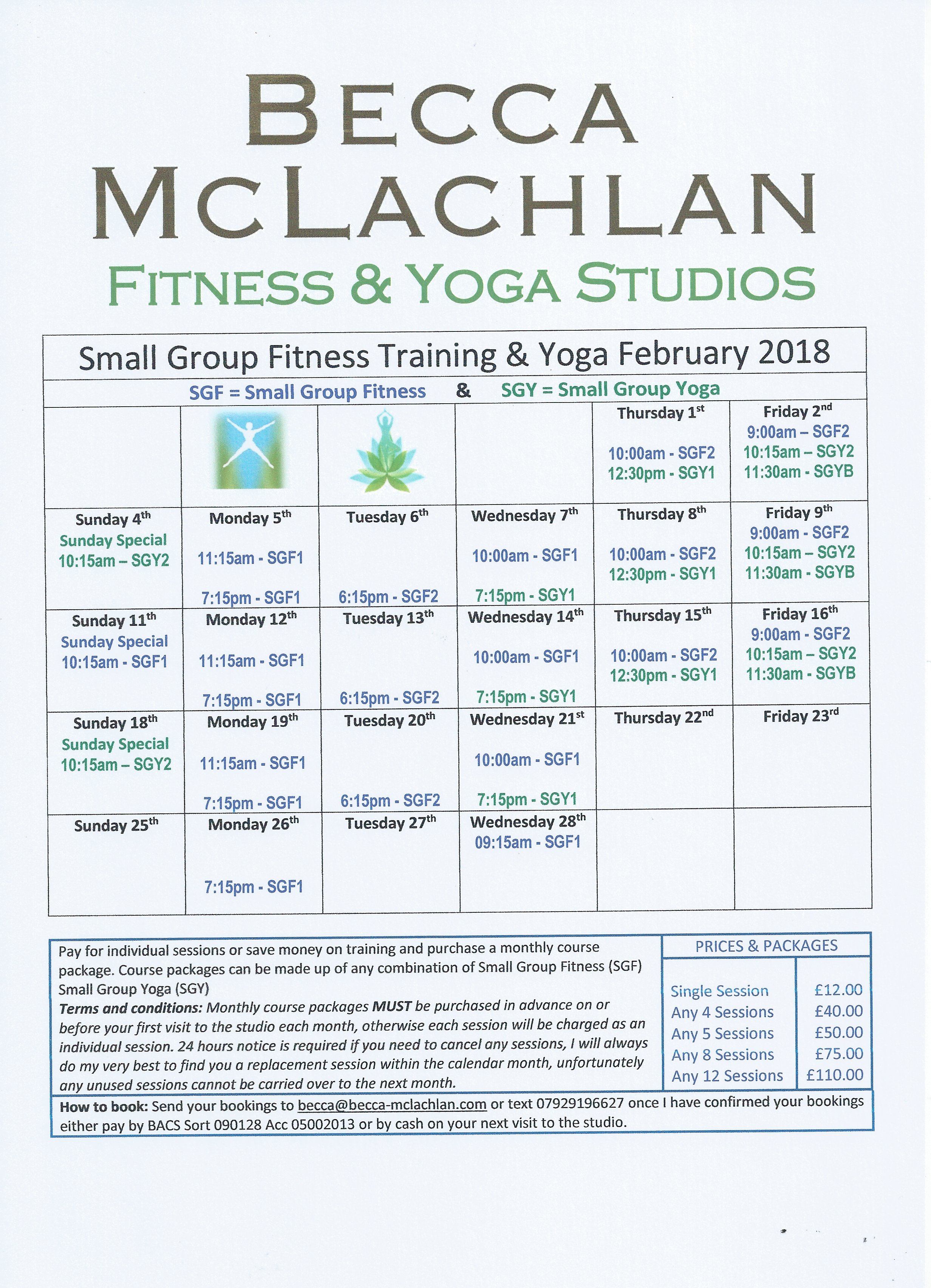 Prices
Terms and conditions – All Small group sessions need to be pre booked. Monthly course packages need to be purchased in advance on or before your first visit to the studio each month, otherwise each session will be charged as an individual session. 24 hours notice is required if you need to cancel any sessions and Becca will always do her very best to find you a replacement session within the calendar month, unfortunately any unused sessions can not be carried over to the next month.
Small Group Fitness Level One (SGF1)
A great mix of cardio training using machines, combined with strength, conditioning and toning intervals.
Small Group Fitness Level Two (SGF2)
Varied sessions which may include, HIIT, boxing drills, kettlebells, spinning, cardio machines and free weights.
​Small Group Introduction to Yoga (SGYB)
These introductory sessions are perfect for beginners or those that have just a little yoga experience. In these classes you will learn to establish a deeper awareness of your breathing and will be guided through some basic yoga asanas (postures) and flow sequences. With special attention on alignment, technique and how to enter and exit the asanas safely.
Small Group Slow Flow Yoga (SGY1)
These sessions are perfect if you prefer a gentle flow class. Each session begins with pranayama (breathing practice) followed by mobilisation to warm up the body before moving on to simple standing sequences to help build strength and flexibility. Each class finishes with some restorative yoga to help stimulate the parasympathetic nervous system to promote deep relaxation, which can sometimes involve the use of props.
Small Group Vinyasa Flow Yoga (SGY2)
These sessions are designed to improve stamina, strength and flexibility. They combine pranayama techniques, long thorough warm-ups and creative standing sequences that are intelligently weaved together. In these sessions you will also be introduced to basic arm balances and inversions. Each class concludes with lovely juicy stretches some which may require the use of props to help promote a great sense of relaxation in the mind and body. The atmosphere created in the classes is both meditative and joyful.
 Sunday Specials
 28th January – SGF1 – Step Intervals –  Step back in time and join me for some basic step aerobics combinations along with strength intervals to some good old 90's tracks, a perfect session to lift your spirit and beat the January blues.
4th February – SGY2 – De-stress and De-compress –  leave the heaviness of January behind and spring forward with this Vinyasa flow yoga class geared towards de-stressing and de-compressing the effects of these winter months.
11th February – SGF1 – Legs Bums & Tums – This is always one of my most popular sessions targeting the areas we love to give a blast. With lots of leg combinations this is also a great session to prepare your ski legs if you are shortly heading off to the slopes.
18th February – SGY2 – Fly & Flow Introduction To Arm Balancing – Arm balances are some of the most fun, exciting, and challenging poses of the yoga practice. In this session I'll be introducing some basic arm balance poses. Contrary to popular belief, balancing on your hands does not mean having strong arms and putting all your weight on them, but rather learning to shift your weight, engaging other muscle groups (like your core), and counter-balancing so your arms hold the least amount of weight possible.
Private Group Training
Becca Mclachlan Fitness Studios also gives the option of booking your own private group session so you can train with friends, family or work colleagues. email becca@becca-mclachlan.com for further details, prices and availability.