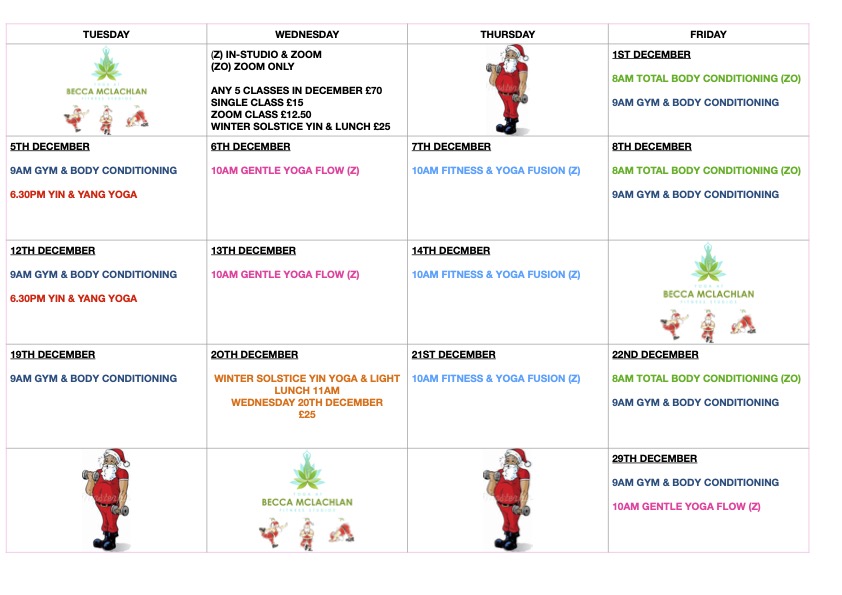 To join classes via Zoom email [email protected] for the link.

If you need to cancel any of your pre-booked sessions 24 hours notice is required, subject to availability you can then transfer to another class in the same calendar month. Unfortunately if you cancel with less than 24 hours notice your session is not transferable.

Guide To Finding The Right Class For You
Fitness & Yoga Fusion – An energetic class weaving Body Conditioning with weights, standing Yoga sequences, Ab's & Core work finishing with a relaxing yoga stretch.
Small Group Fitness – A mix of cardio machines, cables and free weights, some sessions may also include Spinning, Step Aerobics & Interval Training.
Gentle Slow Flow Yoga – If you are a complete beginner or a regular yoga student this is a lovely meditative class linking movement with breath. It's easy on the wrists with attention placed on alignment, technique and how to enter and exit the asanas (postures) safely.
Yin & Yang Yoga – Relax your body and de-stress your mind with Classic Hatha, Sun Salutations and Creative Flows. Passive Yin postures are also weaved into the class working into the deeper connective tissues, ligaments, tendons & fascia. Suitable for students with a least 6 months yoga practice or those who are in a regular fitness routine,
Total Body Conditioning – Exactly what it says on the tin! Low Impact Strength & Conditioning with weights working upper body, lower body, Ab's and Core.
email [email protected] to book.
NOVEMBER/DECEMBER WORKSHOPS   Sound Therapy & Yin Yoga Saturday 18th November 3pm – A deeply relaxing, healing journey through sound and the vibrations of crystal and Himalayan singing bowls, other sacred instruments as well as the broad spectrum of frequencies emanating from the gong. This session is excellent for stress and anxiety relief, it will also help to improve sleep, boost energy and achieve an overall sense of ease and well-being – promoting a more positive outlook on life, no previous experience Yoga required.                                         Restorative Pilates Friday 8th December 6.30pm – Enjoy a sense of ease and freedom in your joints, as you are guided through various stretches and exercises to restore mobility in your joints. This in turn will benefit your posture and may ease any pain or restrictions you might have. EVERY BODY can benefit hugely from Restorative Pilates.                                                                  Winter Solstice Yin Yoga & Light Lunch Wednesday 20th December 10am – Yin is a static yoga practice with longer holds. It combines modern western science with ancient eastern wisdom inspired by the philosophies of Chinese medicine and Taoist principles, working with the meridian energy channels in the body, no previous Yoga experience required.
email becc[email protected] to book, all workshops are non-refundable.